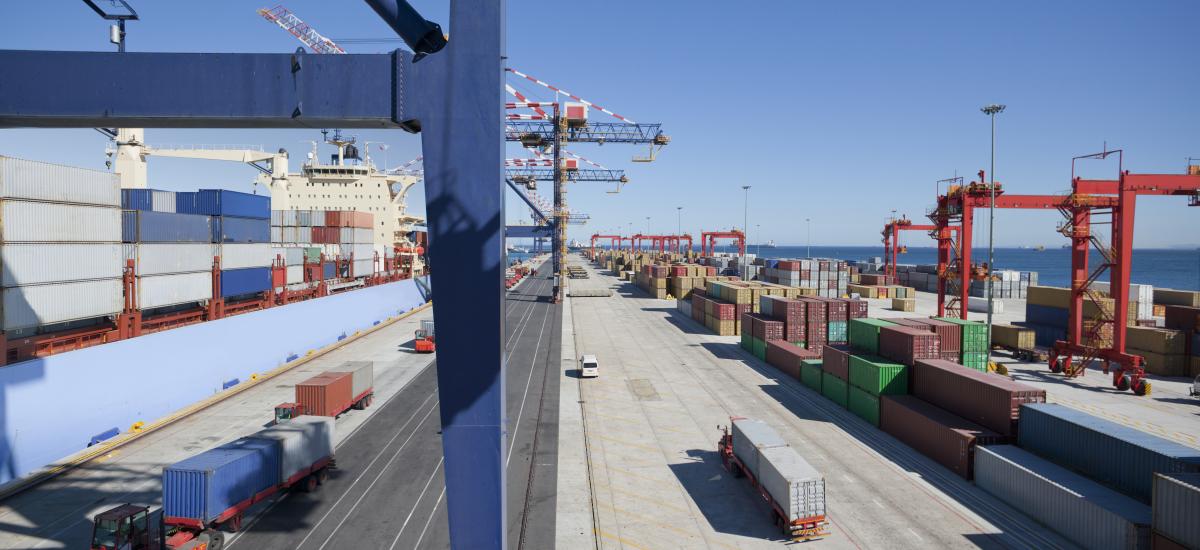 Growth
A Conversation with Mike McClendon, President of International Operations
October 19, 2020
Q:

How did you get your start in cold storage?
Mike: Like many people across the company, I joined Lineage as part of an acquisition! I was the President of Richmond Cold Storage from 1995 until the company was acquired by Bay Grove in 2011. I'm so proud of the RCS legacy, which has incredibly deep roots in the business—stretching all the way back to 1907 when the company was founded as a multi-story brick facility in Richmond, Virginia. Until it was surpassed by New Orleans Cold Storage, RCS was the single oldest family company in the Lineage network. But who's counting?
The RCS team was one of the first established companies to buy into Bay Grove's vision of creating a global cold storage platform company, and we played a key role in supporting that vision within our industry associations. We were able to proudly tell our story and help connect Bay Grove with other successful companies that were interested in becoming a part of what would ultimately become the Lineage we know today.
Even before my time at RCS, cold storage was in my blood. In fact, my father ran a cold storage warehousing business called Carmar Freezers headquartered out of Carthage, Missouri. Early on, I developed a feel for cold storage operations and the essential role of customer service in business—especially in a business-to-business environment like ours.
Q: How does the Lineage of today differ from the company you first joined back in 2011?
Mike: Part of what was exciting about Bay Grove's early vision for Lineage was the technical and functional expertise that becoming a global company would bring to the business and ultimately the industry. The cold chain has largely avoided upheaval until recently—even as the global economy changed around us in many ways. That is partly due to the historical low profile of the industry, but also because it's expensive to keep our buildings up and running, let alone invest in new technologies.
When I joined Lineage, our company had no HR, no IT, no Finance, etc. We had none of the functional experts our team relies on today, not to mention none of the sheer level of top talent you can count on when you are part of a world-class organization like Lineage. As we have grown over the years, the incredible talent of the team we are building has been truly transformational.
We are pushing the envelope across the board—just look at our Data Science team as a prime example of how Lineage is accelerating the industry. The team in San Francisco were just recently issued their tenth US patent—talk about innovation in action at Lineage!
Q:

What is your vision for Lineage's operations in Europe, Asia-Pacific and beyond?
ONE LINEAGE FRAMEWORK
Mike: As Lineage continues to grow, it is vitally important that our constituent parts are brought together into a "One Lineage" team. In all reality, at a company growing as often as Lineage, this work is never over. We are constantly assessing our teams and our operations to ensure we are ready to scale with the company we will be five or ten years from now.
If you take nothing away from our conversation, hear this: Lineage is a global company, and across our regions we are and must act as One Lineage—don't forget that One Lineage is a key value we offer to our customers. Our M&A vision has always been to find smart, innovative companies to acquire that allow us to build a whole that is stronger than the sum of its parts. In other words, in one way or another, we've always worked in pursuit of that One Lineage framework.
The One Lineage approach also gives our team members more opportunities to chart a career path and grow alongside the company, and work in nearly any corner of the world! On top of that, Lineage's story is an exciting thing to be a part of—we all have a hand in building a global powerhouse in an industry that plays a vital role in connecting people all over the world to the food they need to live. Talk about a legacy!
ONE LINEAGE IN ACTION
Mike: If we were to look at One Lineage in practice, we recently made the decision to bring our operations in the United Kingdom and Continental Europe under one unified leadership team, which will strengthen Lineage's overall business in the region by streamlining decision-making, enabling greater visibility and providing a seamless experience for our European customers.
If we look even further back in our company history, bringing strong teams together under one banner has been at the core of our approach to international growth. We acquired Partner Logistics in the Netherlands, Belgium and the UK back in 2017, bringing automation capabilities into Lineage's business for the first time. From that acquisition, we laid the groundwork for further growth in the region and brought the former Partner team's expertise in automation to bear across the Lineage network.
We took the same approach with the acquisition of Yearsley Logistics in 2018, taking their successful transportation business and working to expand it within the UK and across Europe—with the goal of becoming a full end-to-end logistics partner to our European customers. The Yearsley Food business is another great example where we are making connections between their robust regional business to Lineage's US-based re-distribution and foodservice businesses to create a stronger team and offer an innovative, end-to-end solution to our customers in the long run.
With the acquisition of Emergent Cold earlier this year, Lineage has also now entered the Asia-Pacific region in a big way. Emergent brought with it significant capacity across Australia, New Zealand, Vietnam and Sri Lanka with a solid foundation of strong customer relationships that we will be able to build on in the years ahead. Moreover, the acquisition brought with it a talented core Asia-Pacific team that puts Lineage in a fantastic position for future growth. I am incredibly excited to see these two strong regional teams accelerate even further moving forward.
Q:

What is your team's biggest priority right now?
Mike: As we bring together our One Lineage Europe and our Asia-Pacific teams and as we continue to welcome more companies from around the world into the organization, it's absolutely essential that we continue to take the proper time to understand their underlying businesses and the teams that are driving value. The goal of integrating teams into the Lineage family should never be to get the job done fast—it should always be to get the job done right.
In addition to serving as President of Lineage's International Operations, I also serve as EVP, Network Optimization. Wearing both hats brings increased visibility so the company can better help our global teams grow within their regions—optimizing existing facilities, investing in key new opportunities as well as pursuing further acquisitions in regions that complement our existing business.
The more our Network Optimization team understands on-the-ground opportunities and business needs, the better we can optimize how we deploy capital across our global footprint. Without that connection, fantastic opportunities would be left on the table.
Our recently announced plans to develop "SuperHubs" in the UK is a prime example of an opportunity made possible by collaboration between our in-region Operations team and the technical experts on Lineage's IT team. Everyone was able to align around an exciting automation solution for the project, positioning Lineage's UK team to soon have one of the most sophisticated cold storage warehouses in the world.
Q:

What do you see as Lineage's biggest opportunities over the next five years?
GLOBAL SCALE & GLOBAL EXPERTISE
Mike: We are building a global organization in response to the global reach of our customers. If Lineage is going to be an essential strategic partner to our customers, our scale and reach needs to match theirs. As we grow our international operations, Lineage only becomes better positioned to be that trusted partner.
That said, we need to take the same approach we took within our US operations to develop the expertise and sophistication of our functional teams to match the scale of the company. To make that happen, we need to drive global collaboration, which means we need cohesive functional teams that work together across geographies.
TRANSFORMATIVE AUTOMATION
Mike: Lineage is already leading the field in our ability to deploy cutting-edge science and automation technologies to advance the industry. It is truly a game changer to go from the conventional building design of today to the automated high-rise of tomorrow—ultimately offering more flexible solutions and farther-reaching value to our customers.
Lineage is also poised to deploy capital on a global basis as we lean into our organic growth, in addition to our robust M&A activity. No matter where the building is located across our global operations, Lineage is able to evaluate the potential for advanced automation and can leverage our data science expertise to build the most technically advanced building in the world every time we break ground on a new facility.
Watch out world, Lineage is here!
Billion Cubic Feet of Capacity
Buildings Around the World