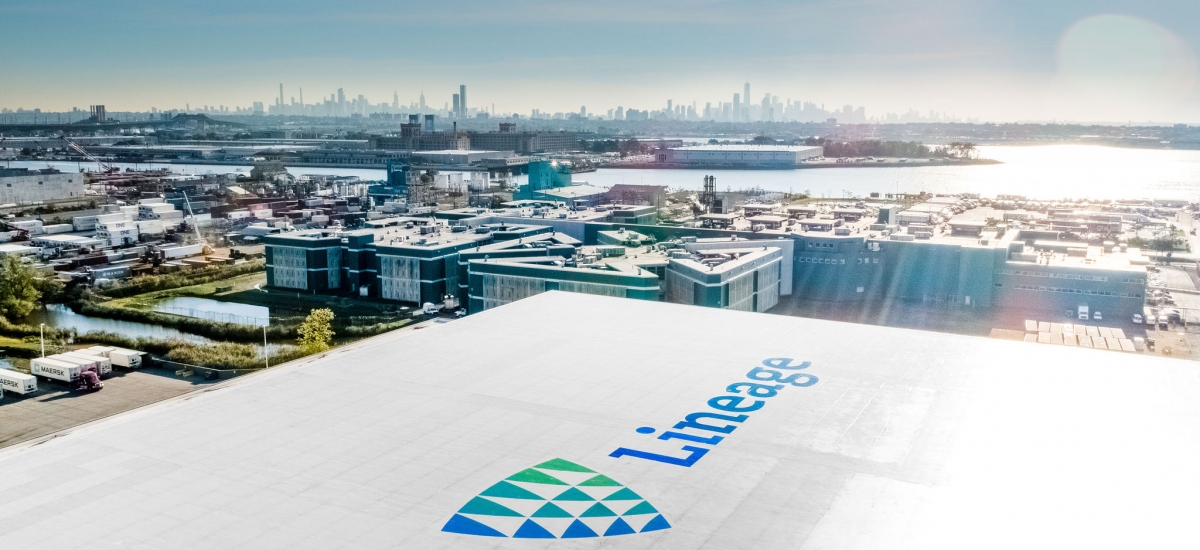 Impact
//
Growth
//
Innovation
//
Trusted Partner
//
Culture
2020: A Message of Hope and Reflection From Lineage's President & CEO
December 31, 2020
We did it – we made it through 2020. It was a shocking, uncertain and ever-changing year no one could see coming, marked by a devastating global pandemic, a resounding call for social justice and a divisive election in the U.S. that meant so much to so many. No doubt, history is being written, and we're living in the thick of it.

History is being similarly written within the four walls of Lineage. Beyond a shadow of a doubt, we will look back on 2020 as a truly defining year, where we showed up with remarkable strength and staggering compassion to transform our organization – and the temperature-controlled logistics industry as a whole.

Naturally, the end of a year calls for reflection on some of our greatest achievements, but I'd like to first to shine a light on what I think are the most outstanding of them all.

Like every business in the world, Lineage was profoundly impacted by COVID-19 – and the cold chain was thrust into the spotlight unlike ever before. Lineage team members around the world were called to serve in an extraordinary way, standing on the frontline of the pandemic and responding to unpredictable surges in demand as well as changes in our customers' supply chains to help keep the world fed. Our purpose – to transform the food supply chain to eliminate waste and help feed the world – has always been a guidepost and a steadfast reminder of why we come to work every day. But each and every one of you brought it to life this year in a whole new way, while never wavering from our commitment to keep each other safe.

I'm in awe of how this team came together to overcome what seemed like an insurmountable challenge – which makes our growth in 2020 nothing short of spectacular.

Since our founding, Lineage has been defined by constant, dynamic growth. But 2020 saw us shift into a gear I didn't know we had – and frankly, didn't know was possible! We will complete 39 acquisitions this year, which equates roughly to one acquisition every nine days. We've entered eight new countries and added over 130 locations to our global facility network. We've welcomed 5,000 skilled new team members, who are eager to live our purpose around the world. And we've opened or broken ground on 16 construction projects with an unreal pipeline of business for future development. These numbers are something to behold, and I am thrilled to enter 2021 better positioned than ever to satisfy and thrill our customers.

Make no mistake, this seriously elite level of growth and change comes with incredible pressure and hard work. Being a part of the Lineage juggernaut requires each of us to dig deep and bring the best of ourselves to work every day. But in my heart of hearts, I am certain we will look back at this time in our careers – albeit both challenging yet profoundly rewarding – and marvel at the amazing company we have built together.

Perhaps more than anything, this year has reinforced the unshakable pride I have in the fabric of this company – one we have weaved together, as a team, over time. That fabric includes a culture deeply rooted in values, where our newest team members see they're not just words on a wall. It includes a commitment to prioritizing inclusion, diversity and equality and putting people before profits without exception. And most importantly, it includes a workplace where we gladly set egos aside and work together toward a greater good.

We are building a unicorn of a company. It's a rare and beautiful thing, and it's all because of you.

On behalf of the entire executive team, our owners at Bay Grove and our shareholders, thank you for your seriously superhuman contributions to making this year – and this company – one we can all be proud of.

Now, let's turn to some of the Lineage family's greatest accomplishments that helped us to achieve our purpose in 2020:


Transform the Food Supply Chain

Last year, I wrote that 2019 would be viewed in the years to come as a transformational time in our company's history. Somehow, 2020 blew 2019 out of the water.
In September,

we raised $1.6 billion

in equity from new and existing investors to help us pursue new acquisitions, undertake organic expansions and invest in enhanced technology – like automation – to provide added value to our customers around the globe.

We've entered several new international markets via acquisition this year including,

Canada

,

Poland

,

Norway

,

Denmark

,

Australia, New Zealand and Sri Lanka

, and welcomed the world-class teams from Emergent Cold, Ontario Refrigerated Services, Pago Sp. z o.o., Coldstar, Lundsøe Køl og Frys, Super Frost Sjaelland A/S, Vriescentrale Asten, Frigo Group's Heerenberg B.V. location and Kloosterboer's Norway facility.

We

expanded our leading facility network in the U.S.

by welcoming the highly respected teams from New Orleans Cold Storage, Allied Frozen,

Henningsen

, Southern Cold, Dick Cold Storage and Burris's Lyndhurst facility; we also strengthened our suite of logistics services with our acquisition of

Maines

, adding both facility locations and last-mile distribution capability to our customer offerings.

Throughout the year, we broke ground or completed

greenfield and expansion projects

around the globe, deploying more than $1.4B in CapEx and investing in capacity where our customers need it most. The Lineage shield is flying high in U.S. locations like Jacksonville, Miami, Hillsborough, Stevens Point, Dallas, Charleston, Logan Township and Portsmouth, as well as internationally in Rijkevorsel, Heywood, Peterborough, Roermond and Hawkes Bay. In total, we are adding one million pallet positions and nearly five million square feet via new construction alone.

More than 60 sites were onboarded (virtually!) to Lineage Link, as we continue to drive operational efficiency and technical innovation networkwide.

Two of our energy innovations – our blast cell redesign and flywheeling – landed Lineage the number 31 spot on Fortune's 2020 "

Change the World

" list, which recognizes companies like Microsoft and Wal-Mart that have made important social or environmental impacts through their business operations. To be awarded for initiatives so directly tied to our purpose is a testament to the drive and creativity of the entire Lineage team.
Eliminate Waste

When we talk about eliminating waste, many focus areas come to mind. Certainly, Lineage is committed to reducing food waste around the world – and I personally believe it is our charge to lead the temperature-controlled logistics industry in pursuit of a zero-waste future.

Yet Lineage is also making incredible strides in reducing both energy and process waste. This year, Lineage was recognized by the U.S. Department of Energy's (DOE) Better Plants Program with their 2020 Better Project Award, in which recipients are recognized for outstanding implementation of projects that minimize the waste of electricity, fuel and/or water. Additionally, ten facilities double-downed on the company's commitment to continuous improvement and kicked off their Lean journeys. I'd like to congratulate the team from Quincy for earning their Bronze Certification as well as the teams from Agua Mansa, Henderson and Sunnyvale for earning their Silver Certifications – each of you will be a shining example for the 19 locations that plan to start their Lean journeys in 2021!


Feed the World

At the outset of the pandemic, we saw its quick and crippling impacts to communities around the world. We immediately recognized our unique position to help overcome a new wave of food insecurity – and there were thousands of people who desperately needed help.

In response, we launched our "Share A Meal" campaign on March 23, which called on global influencers, individuals and food chain leaders to help provide 100 million meals to people affected by COVID-19. In addition to the participation from Steph and Ayesha Curry's Eat. Learn. Play. Foundation, we secured the support of 14 additional athletes and teams – from both professional and collegiate sports – who joined the campaign through donations to their chosen local food banks. To say we were both overwhelmed by the response to our campaign and humbled by our collective ability to make an indelible impact on our communities is a profound understatement. We can't thank our campaign supporters enough.

By September, we were proud to announce we achieved the campaign goal of 100 million meals and were named a Visionary Partner of Feeding America®, the nation's largest domestic hunger-relief organization and long-time philanthropic partner to Lineage. No doubt, this recognition is a testament to the strength of our partnership, and we join incredible companies like Amazon, Conagra, General Mills, Kraft Heinz and Wal-Mart in Feeding America's fight to end hunger.

--

No doubt, when the clock strikes midnight around the world – and 2020 turns into the proverbial pumpkin – many will breathe a sigh of relief and welcome the hopefulness that comes with a new year and a fresh start. I encourage each of you to revel in it and harness its momentum as we dive headfirst into 2021 – because our journey with Lineage just keeps getting better.

From my family to yours, have a safe, healthy and happy new year!

All the best,

Greg