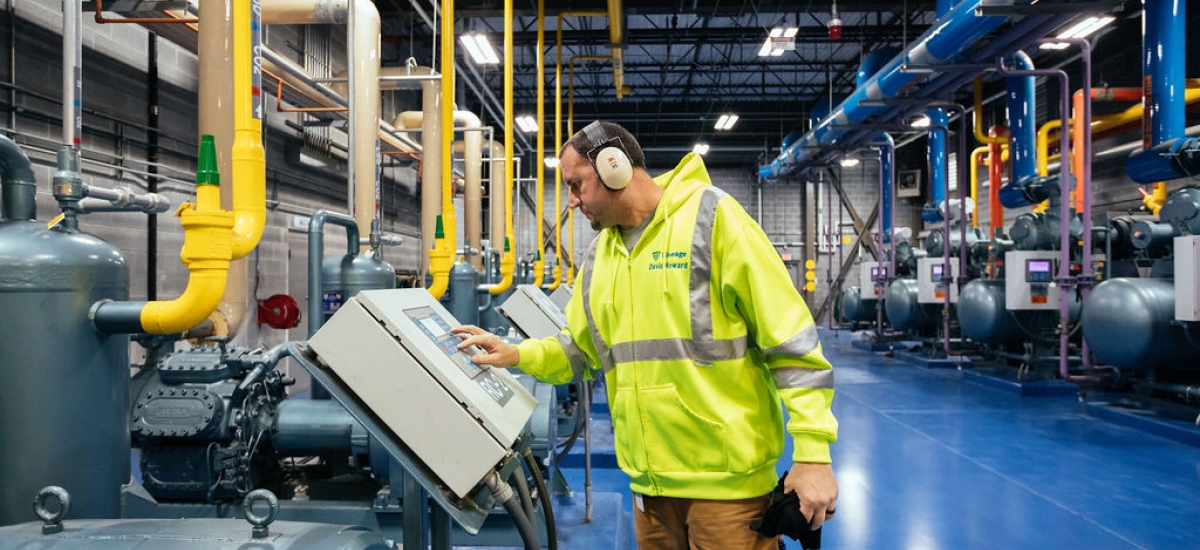 Innovation
New Tool Takes Facility Maintenance from Reactive to Proactive
September 29, 2021
Maintaining the food supply chain

Keeping the food supply chain running smoothly involves many moving parts and extensive cooperation in each and every Lineage warehouse. Lineage's maintenance team plays an absolutely essential role in that effort.

Proper maintenance is crucial in making sure that the food we handle makes it safely from farm to fork. Maintenance also plays an integral role in ensuring the safety of the Lineage team that shepherds that food throughout its journey.

Quite literally, our facilities would fall into disrepair without consistent maintenance — the machines we need to load trucks and move pallets would cease to function and even the refrigeration systems that keep our warehouses cold would break.


From tedious to instantaneous

In the past, our maintenance processes relied on outdated methods of monitoring equipment status, tracking upkeep calendars and scheduling personnel. This situation created a primarily reactive maintenance process where the team was focused on the most immediate need in front of them and deprioritized preventative care.

Our facilities generally utilize dozens of individual material handling equipment (MHE) per shift while loading and unloading trucks, moving pallets to and from storage or while repackaging items. Keeping track of every individual piece of equipment — along with its respective maintenance schedule and routine upkeep calendar — is no small feat. With so many components to track, it becomes inevitable that some things end up falling through the cracks.

When compounded, these factors often snowball into more frequent and longer vehicle downtimes — slowing down our operations and impacting our ability to meet customer expectations.

That is where eMaint comes in. eMaint is a computerized maintenance management system that automatically organizes and manages nearly every facet of the maintenance process. It takes care of the time-consuming, manual work of tracking equipment and scheduling activities and frees up our teams to focus on preventative maintenance —identifying and rectifying problems before they have the chance to cause larger issues for the operation.


Identifying gaps

The system we have implemented also tracks and reports detailed data logs. Having accurate, concrete data at our fingertips provides a multitude of benefits. Automatically generated reports make it easier than ever to identify gaps in our maintenance procedures — allowing us to learn from our mistakes and course correct where needed.

We are easily able to find weak spots before they become critical failure points, almost eliminating the risk of catastrophic downtimes. All of this is leading to an overall increase in productivity within the maintenance team itself and the facilities they support.


eMaint in Action

Our facility in Quincy, Washington, provided us with an inside look at how eMaint has transformed their maintenance program. With their prior, manual maintenance method they experienced multiple daily equipment failures, culminating in a whopping 20% of their MHE fleet out of commission on any given day. Since they went online with eMaint, equipment failures have fallen dramatically and their MHE fleet is operational 95% of the time.

That, along with fully automatic preventative maintenance and work schedules has led to reduced labor and parts costs, high engagement among team members, minimal equipment failures and more in-depth cost tracking capabilities. Ultimately, they now experience a 93% on time completion rate for all maintenance procedures. All of these wins add up to huge value for their entire operation. With greater ability to rely on their equipment, the Quincy team can work more efficiently, seamlessly and collaboratively to deliver excellent customer service.


Strategic innovation for a more efficient cold chain

At Lineage, we understand that our team members are our most valuable resource — and that their time is best spent when it is ensuring the safe storage and transport of the world's food.

By bringing in tools like eMaint, we can channel the skills and expertise of our maintenance team away from mundane recordkeeping and toward the work that matters most. These days, our team can access the data they need with the tap of a finger. The result? A maintenance team better poised than ever before to meet and exceed the expectations of our operations team and Lineage's global customer base.