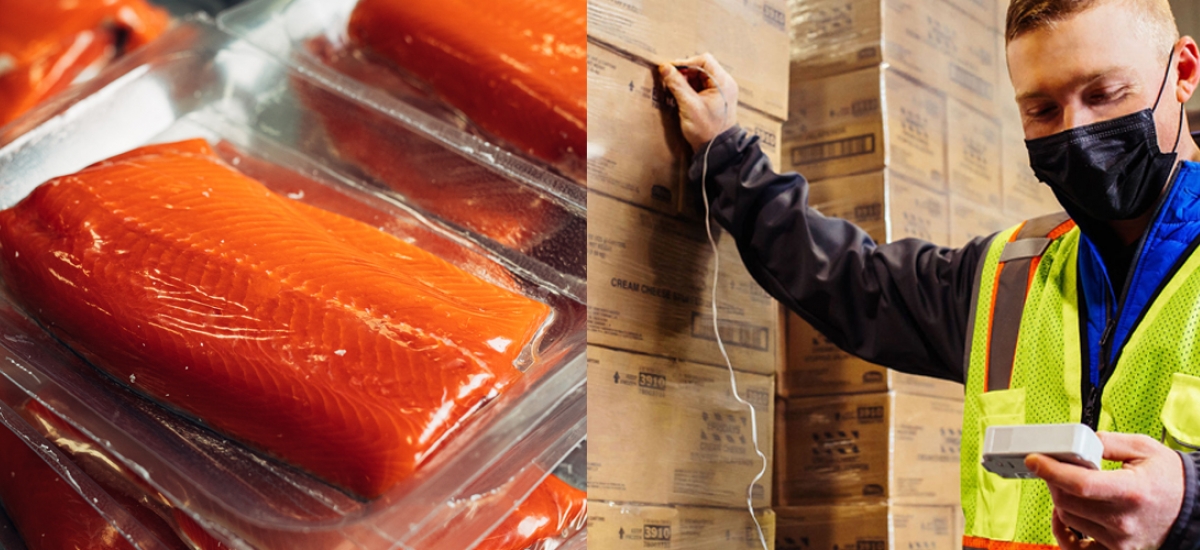 Trusted Partner
//
Culture
Making Every Meal the Safest Meal
June 03, 2021
Right now, the food supply chain is being pushed to expedite its processes to satisfy increased consumer demands and expectations – food is expected to move from farm to fork faster than ever before. As the cold chain evolves to keep pace, the emphasis on food quality and safety is especially critical.
No doubt, adherence to and maintenance of standards are central to food safety and quality. Yet as our business pushes the boundaries of innovation in the temperature-controlled logistics industry, Lineage is also at the forefront of applying fresh perspective and forward thinking to food safety – recognizing current market conditions and embracing the role that the cold chain plays in keeping the world's food safe.
Food Safety + Food Quality = Food Optimization.
At Lineage, we are experts at efficiency – but not at the expense of food safety and food quality. That's why we have an entire team dedicated to reimagining the way we approach food safety and food quality. In fact, we call it "food optimization." Spearheaded by food safety expert Dr. Stephen Neel, Lineage's Food Optimization team is shifting beyond traditional food safety compliance to incorporate proactive quality optimization into our standard practices. Optimization – not just compliance – requires a two-pronged approach, according to Dr. Neel.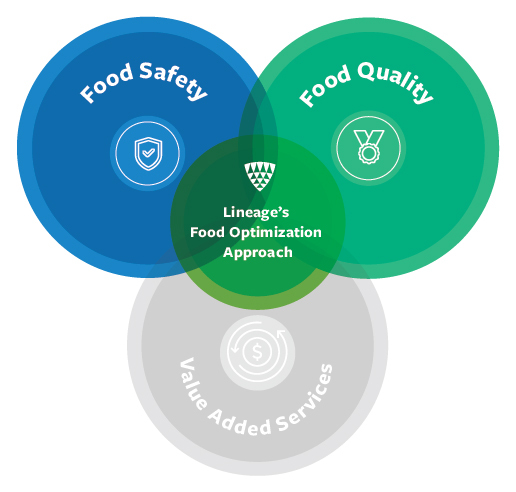 This approach has our team asking two important questions: First, are we meeting compliance standards? And second, is our workflow set up to support optimum food quality? In other words, when a product is in our possession, are we doing everything we can to maintain the optimal environment to preserve product quality? Demonstrating that we can answer "yes" to both questions makes us invaluable partners throughout the entire cold chain process­ – taking us from a transactional warehouse provider to a strategic caretaker of our customers' most precious commodities.
Our Food Optimization team has expanded their influence and impact through a combination of comprehensive cold chain oversight, on-site pallet and workflow prioritization, risk mitigation and regulatory compliance. The team, composed of in-house Safety Compliance personnel as well as Regional Food Safety Managers, provides training, information, and expertise to support food safety and food quality programs throughout our entire organization. Fundamentally, optimal food safety is the responsibility of every Team Member.
To Dr. Neel, this approach differentiates the way Lineage positions itself as a strategic partner to food and beverage customers – from Fortune 500 companies to small, local businesses. "We see ourselves as a 'food' company rather than a warehouse group. Our commodity experts understand the unique aspects of our customers' products and anticipate temperature-sensitivities and other variables that can impact quality and safety. We've actually taught some of our customers new concepts about their own products through these efforts."
What happens when we're no longer just the middleman?
Historically, food logistics and food storage companies are true middlemen in the industry – providing connections between customers, suppliers and manufacturers of food and the foodservice industry, to include hotels, restaurants, institutions and retail stores. However, COVID-19 significantly transformed consumer buying habits, accelerated the growth of online shopping experiences and forever changed the way consumers think about their access to food. As we continue to transition into the role of direct distributors, Lineage has the opportunity to take on an increased role in ensuring food quality as well as food safety.
The days of full-load pallets isn't ending, but multi-SKU pallet-picking and overnight shipping to homes has picked up. These increased touches, like breaking of cases and direct contact without the downstream industrial partner, will put additional pressure on our food safety and food quality systems.
Realistically, a cold chain partner like Lineage may be the last contact to check food safety and quality before it ends up on the consumer's table – and with increased exposure comes increased responsibility. As we handle our customers' products, our efforts become central to maintaining the brand equity of the customers we partner with. In other words, we have the people, processes and tools to take on that important responsibility.
Food optimization is the way of the future for logistics success.
Emphasizing food optimization isn't just a new way of doing business, it's a long-term customer benefit. Investing in programs that couple food safety and food quality serve as another way to provide superior service to our customers.
"We're offering insight traditional logistics partners haven't even considered. We're proving ourselves as not only the preferred warehouse partner, but a preferred food storage partner. Our customers know that we value their products as much as they do, and through our food optimization approach, we can help them maximize their product quality and continue to meet increasing market demands."
Dr. Stephen Neel
At the end of the day, we are consumers of the food we store. Our families and our neighbors might not understand terminology such as "food optimization," but they can appreciate it every night at dinner. Leading the way in food optimization and ensuring that only the freshest and safest foods reach our families and yours, motivates our entire team as we place food quality and food safety as our highest priorities.