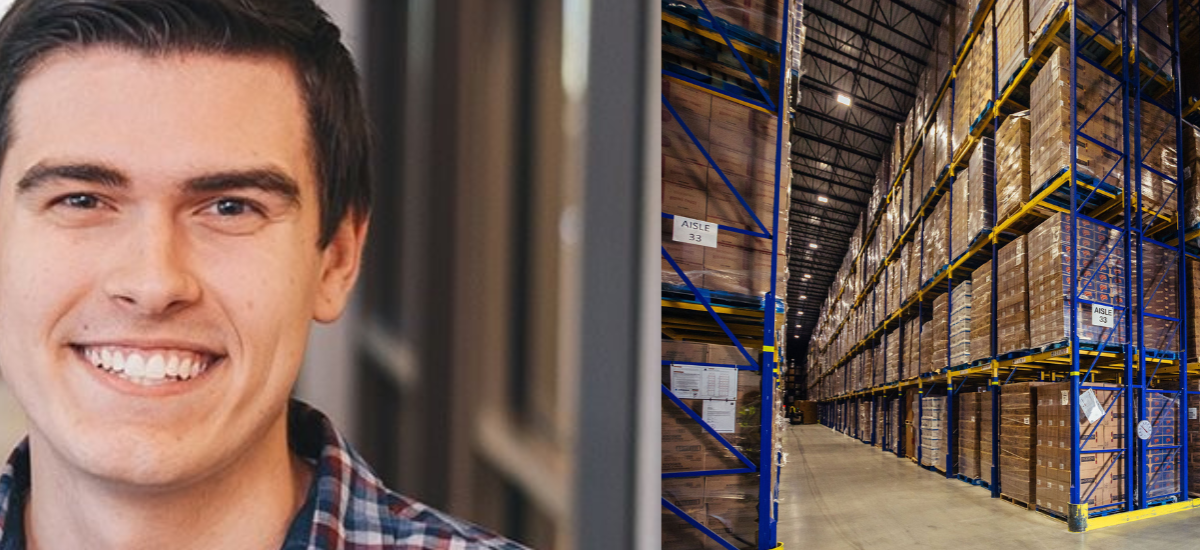 Culture
Lineage's Internship Program: Empowering the Next Generation of Cold Chain Leaders
February 21, 2023
Lineage's Internship Program draws in top early career talent from colleges and universities around the country. The program provides real-world experience in the ever-important and increasingly visible supply chain and logistics industry. We sat down with Lineage's own Connor O'Meara, former intern and now full-time associate project manager on the Automation Systems Team, to discuss his own first-hand experience.
What led you to choose Lineage's Internship Program over other internships?
Early on in my college career, I switched majors to focus on supply chain management. At that point, I still didn't have any work-related experience in the field, so I wanted an internship program that offered a real-world, hands-on experience. I heard about Lineage and that it was a relatively young company that was shaking up the industry, and truly feeding the world at the same time. That's what interested me.
What interested you about supply chain logistics?
The fast-paced nature of it was what drew me in. Knowing that no two days will ever be the same and having the opportunity to find creative solutions to a whole variety of problems really appealed to me. At the end of the day, I knew I didn't want to be in a job where I'd be doing the same thing, day in and day out.
Supply chain logistics is an industry that's important, something that I think was made even more clear when the pandemic hit. To be honest, I never really thought about how frozen or refrigerated food made it to grocery store shelves until I started studying this industry; now I'm always thinking about how much work goes into getting those products to dinner tables.
How did the internship compare to your expectations?
It exceeded my expectations. I went into the program hoping to develop my professional skills and learn from professionals and leaders in the industry. Throughout the internship, I met with leaders from all over the company who were genuinely interested in our ideas and input. I also got real-world experience working on important projects, like the Sunnyvale automated expansion project. It was more than I could have hoped for.
What was a typical day in the program?
A typical day would vary. I started out working on a data project in the Transportation Department, finding route optimizations to help ensure products were reaching their destinations on time. I was meeting with a lot of leaders and vendors to find real solutions to real problems.
I also worked with the Project Management team and was involved in the Sunnyvale automated expansion project. This portion of the program was more meeting-based than the transportation project. We would have several meetings a day, some with the executive leadership team, where we learned about the process of the project, what issues arose and status updates. We even went on a couple site visits so we could see the operation and get hands-on experience. It was really cool to get the opportunity, as an intern, to work on a major project like this.
What was it like to work with leadership as an intern?
Lineage leadership did a great job of creating a really supportive and engaging environment for us. We were encouraged to speak up, ask questions and contribute to conversations wherever we could, and they genuinely listened and cared about what we were saying.
I honestly consider everyone I talked to throughout the program a mentor because each of them taught me something new about Lineage and the industry.
Did you learn or develop any new skills?
Definitely! One of the skills that I developed the most throughout the program was my communication skills. Having meetings with leaders, vendors and project teams gave me exposure that I couldn't get in a classroom. It built up my confidence and taught me how to be clear and concise when communicating large amounts of complex data.
How did the program set you up for success?
I was given the opportunity to meet many of the leaders across the company, from plant managers and supervisors to my current boss. I also learned a ton about the supply chain and the industry. The program gave me plenty of opportunities to apply the concepts that I was learning in class to real life problems and projects. There are a ton of things that you just can't be taught in a classroom and the internship did a great job of giving me that experience. This ultimately set me up for success and I'm really grateful that I had the opportunity.
Reimagine Your Journey and Apply for Lineage's Internship Program
Lineage's Internship Program offers a unique opportunity for students to gain practical knowledge and expertise in logistics and supply chain management. Through the program, Connor O'Meara, now an Associate Project Manager at Lineage, shares his own perspective on the program and the significant lessons he learned from his mentors and interactions with senior and executive leaders on his way to a successful career right here at Lineage. The Lineage Internship Program enables interns to work on important projects while acquiring essential skills in communication, time and project management. Lineage's values-driven and supportive workplace culture makes this program an exceptional internship experience.
If you or someone you know is looking for a one-of-a-kind internship opportunity, consider exploring Lineage's 2023 Internship Program. The program provides opportunities to reimagine your journey through internships in various fields, including Project Management, Data Science, Engineering/Sustainability, Human Resources, Finance, Transportation/Logistics, and Information Technology. Don't wait, apply today!