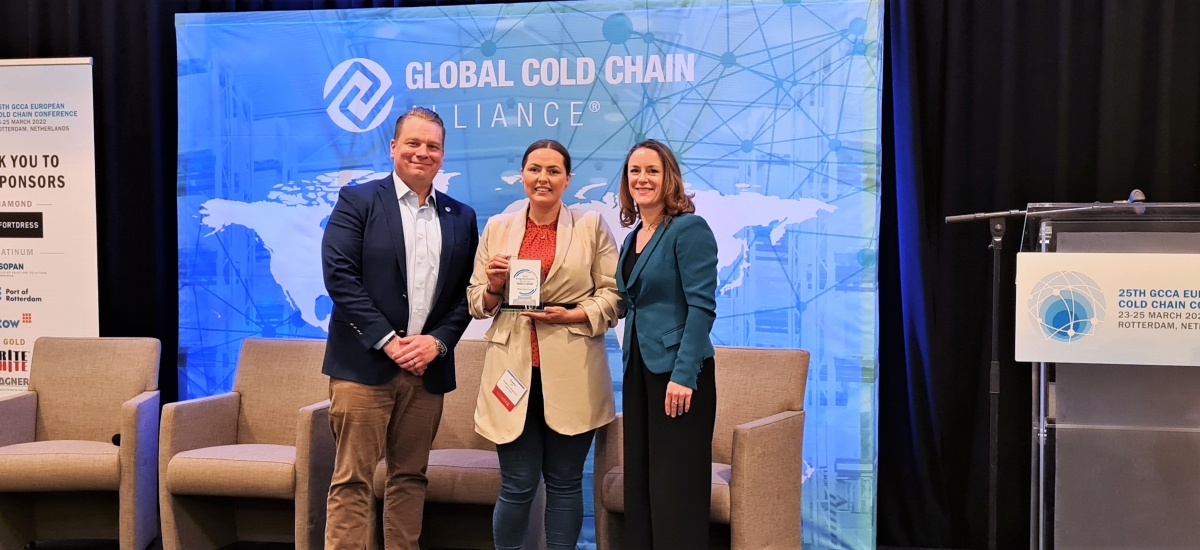 Culture
Future leaders: Lineage team members recognized as outstanding young professionals in the cold storage industry
March 28, 2022
Each year, the Global Cold Chain Alliance recognizes the best and brightest future leaders in the temperature-controlled logistics industry.

On March 25, Lineage team member Corrin Hill received the GCCA European Future Leader Award at the European Cold Chain Conference in Rotterdam, The Netherlands, for excellence in her work as a Transport Manager and her potential to further excel in our industry. Corrin will go on to represent Europe in the competition for the GCCA Global NextGen Award later in the year.

Over the past year, GCCA has recognized three Lineage team members for their leadership potential, nominating them for Future Leader awards in their respective regions. Join us in congratulating Liam, Corrin and Troy on this honor!


AUSTRALIA
Liam Neilly, a Team Leader at Lineage in South Australia, received the 2021 RWTA Frank Vale Award for Australia, making him a finalist for the GCCA Global NextGen Award.

EUROPE
Corrin Hill, a Transport Manager at our Heywood facility in the United Kingdom, received the 2022 GCCA European Future Leader Award, making her a finalist for the GCCA Global NextGen Award.

UNITED STATES
Troy Stokes, a Senior Project Manager Lineage in Michigan, was nominated for the 2021 Don Schlimme Future Leader Award.


Finalists are recognized for continually demonstrating excellence in their work, potential to excel further in several facets of the industry and possessing valuable insight into their organization's strategic values and direction.
 
We are proud to see that Lineage is a great place to learn and grow as a logistics professional, and our global team is made up of talented individuals striving for excellence.
 
Read on to hear from these three team members on what leadership means to them, and how they view the future of the logistics industry as young professionals setting out on promising careers:
 
Congratulations on this recognition! Tell us a bit about your role and how you arrived in the logistics field.
LIAM: I am responsible for productivity, planning, rostering and commercials within the DC2 operation. I've enjoyed the opportunity to learn more aspects of the business and to develop my skill sets further. Initially, I had seen cold storage as a way in which to fund traveling, but over the years I've enjoyed the progressive nature and learning that the cold chain brings. I'm keen to continue working within a company that has innovation at the forefront.
 
What do you think makes a good leader, particularly in our field?
CORRIN: I view leadership as the ability to direct and enthuse a team with confidence and a depth of understanding. Having worked "ground floor up", there is no job within Transport that I have not done, so I am able to talk with gravitas and confidence with the teams working with me.  I display my knowledge at a ground level with my team and share my experience with patience and willingness to build my team be better and achieve more. Bringing people forward with me is one of my greatest strengths as a leader.
 
What is your vision for the future of the third-party temperature-controlled logistics industry? What does the industry need to do to recruit and retain young, talented professionals?
TROY: Temperature-controlled logistics is a necessary and critical pillar to the well-being of our entire society. We need to make the necessary changes in the industry to drive improvements in process, systems, and infrastructure to ensure uninterrupted service to our customers--including you, your loved ones, and the rest of the world. People want to be part of something game-changing and want to be in a role where they can put their own stamp on the world.
 
Congratulations and thank you for representing One Lineage!