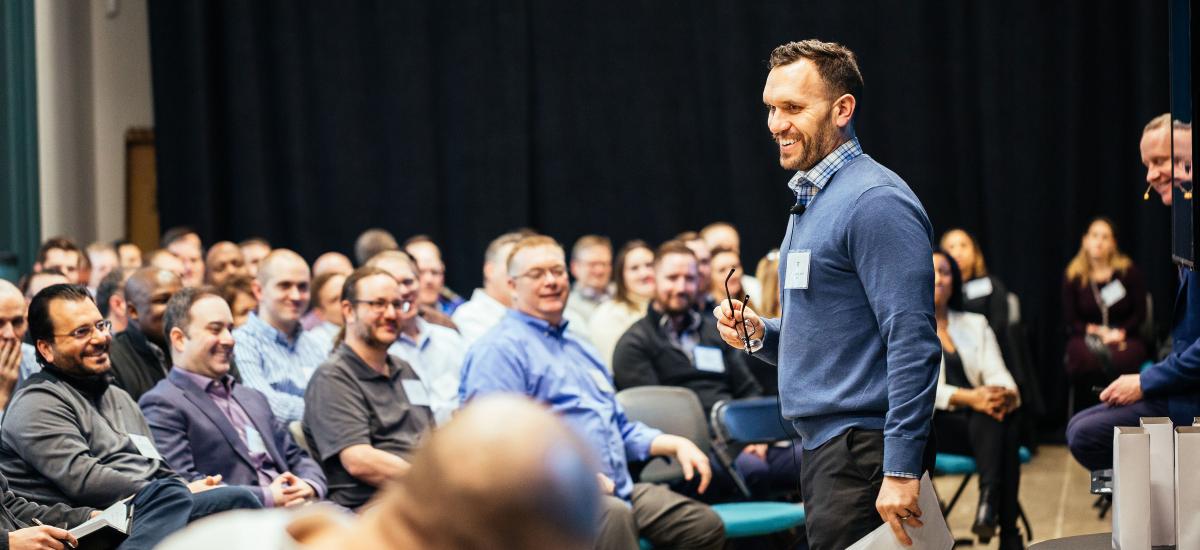 Culture
A Conversation with CHRO Sean Vanderelzen
July 10, 2020
Q: How does the HR team support Lineage's broader operations and strategic vision?
Sean: One of the biggest misconceptions about Human Resources (HR) is that we are something like the organizational police—existing primarily to enforce a company's rules. In reality, our role is really to serve as a true partner in the business through supporting and managing the people that work here. 
At Lineage, the HR team is responsible for supporting the company's growth strategy and cultivating our culture to make Lineage a great place to work for our team members. Most team members only ever interact with our HR team at the facility level, but there is a whole cast of characters in HR who contribute to your experience as a team member in a big way.
Within our department, the team is organized into three "functions" to deliver the best possible service for the company. We have HR Operations who keep the trains running, HR Centers of Excellence that specialize in areas like total rewards or professional development and our HR Field team that directly partners with and supports our sites in day-to-day business operations – these are the folks that are based within our facilities and partner with the Operations team by offering strategies and tactics to support the "people" needs of the company.
Q: How do you measure success for your team?
Sean: Our goal is to run the HR function like you would run a business, so we are focused every day on tracking and measuring key metrics of success. Metrics we track on an ongoing basis include: the amount of money we spend per hire, the time it takes to fill key positions, how many off-cycle paychecks are issued and much more.
In addition to ongoing metrics that speak to HR's overall effectiveness, we also rely on surveys (particularly the annual Employee Engagement Survey) to understand how we're doing when it comes to culture.
The best part of these metrics is that they provide us a direct opportunity to partner closely with both Operations and Functional teams to drill down to the drivers of engagement (or lack of engagement) and create strategies for improvement.
Q: You have now been Lineage's CHRO for just under five years now. What are some of the HR team's accomplishments of which you are most proud?
Sean: More than anything, I am proud of the very talented team we've built. It ultimately comes down to HR doing what we ask everyone else in the organization to do—effectively manage our people.
Having the right people on this team has allowed us to accomplish big things for the organization, and we're being recognized for it in a big way. I am so proud to share that last month, we were named the HR Team of the Year by Crain's Detroit Business. I am incredibly proud of what this team has achieved and thankful for everything they do to help build the type of culture that makes Lineage an awesome place to work.
A few of the team's accomplishments over the last five years that I'm particularly proud of include:
During a historically low period of unemployment, the team reduced turnover network-wide by 20% and by over 40% at our largest distribution centers.

The team launched a comprehensive onboarding program to support new team members. In so doing, they increased productivity for new team members by 30% during their first 30 days by giving them a better understanding of their roles, their responsibilities and the support systems available to help them bring their A-game every day.

We also launched a new leadership development series—Leading in the Lineage Way—to help our leaders grow the people skills required to successfully lead a team and to create common language and tools for leaders across the company.

The team was also intimately involved in the integration of thousands of new team members into the Lineage family over the last five years—including over 3,000 in 2019 alone.

On top of all that we've launched strategic partnerships with Feeding America and now the Global FoodBanking Network to allow Lineage and our team members to give back to our communities. Living our values and our purpose as an organization in a new and powerful way.
Q: What are your team's biggest priorities right now?
Sean:
COVID-19
Right now, the team is focused on actively managing the company's approach to COVID-19. It is our top priority to ensure that our team members are safe and informed during this incredibly challenging and uncertain time. Additionally, as part of our Share a Meal promise, the team is working closely with external partners and company leadership to help provide 100M meals to families in need due to COVID-19.  
SUPPORTING GROWTH
The HR team is also responsible for ensuring we have the right people and structures in place to scale up as the company continues to grow – whether via acquisition, expansion or new build. When thinking about how to sustain our trajectory, supporting our growing network outside the United States is top of mind. Three years ago, we had only a few hundred team members outside the US; today, we have a few thousand.
ENGAGING OUR TEAM
We are always driven to keep evolving our culture to ensure Lineage is an awesome place to work. Retaining our team members takes excellent support systems that recognize and reward the contributions we all make to the company's success. In particular, our Total Rewards team is focused this year on the rollout of our new recognition program, which acknowledge team members who go above and beyond the call of duty based on a tiered system—going all the way up to the CEO Awards.
DRIVING INCLUSION
As Greg (Lehmkuhl) outlined in a companywide message last month, Lineage is committed to continuing to move our needle forward as an inclusive workplace for all our team members. This is work that has been underway for some time; however, our efforts are being accelerated in light of recent, vivid incidences of injustice here in the United States. Our priority is to ensure that we have a platform within the company where we can continue to learn from and support one another as One Lineage team.
Lineage launched the Women in Leadership at Lineage employee resource group (ERG) in late 2018 and we are now working to lay the groundwork to launch additional ERGs this year to support our Black, Latino and Veteran team member communities. The idea behind ERGs is to provide space for team members with shared backgrounds to come together to discuss issues, propose solutions and build community.
Please know we are also currently looking closely at a number of policy and benefits enhancements as a part of this effort. More to come soon!
Q: What is Lineage's biggest opportunity over the next five years?
Sean: Lineage has an opportunity to continue growing worldwide to better serve our customers. And there is a lot of work to be done to help us scale our processes to match—from figuring out how to navigate language barriers, time zone differences, cultural differences and sustaining truly global working relationships. But we know that if we get this right, Lineage will be an undisputed leader not only in the cold chain but in the logistics industry as a whole. That said, the HR team will need to focus on architecting the structure of the organization and the deploying technology systems we need to support a global company.
We will also work on building out our culture in ways that allow our growing, diverse team to come together as One Lineage. To achieve that we need to live our values in new and important ways—through building inclusion into our core business plans and driving engagement to position Lineage as a leader within our international communities.
And we need to ensure we are hiring top talent and developing our current team members to meet the rising needs of the business. To that end, we are preparing a new manager development program in 2021 to help our top rising talent grow into the leaders the company will need in 2025.
Seriously, look at what we've done in such a short period of time. I can't wait to see what Lineage accomplishes in the next five, ten, even twenty years! Whatever we set our sights on, our incredibly talented HR team will be there to help make it happen.